With the DC TV shows in CW has come to their finales, I was thinking that it is time for me to see on what transpired and what to look forward to for the next season. For this article, we will be looking at things that may affect our heroes in the future and what potential villains they're going to face. Also, be aware that this post is going to contain spoilers so if you haven't watched it yet, go and see it for yourself and go back here after.
With that said, let's start!
First of, let's start with the first one who went into finale, DC's Legends of Tomorrow. Last April, we get to see the Legends square it off with the Legion of Doom. It was one of the best finale fights that I've seen so far since Season 1 of Arrow. In this finale we see the power of the Spear of Destiny and how it can make and break reality itself. After defeating the Legion, the team was set to go to Aruba but the trip goes to unexpected ways when they see that reality has been messed up.
In the final scene of the finale, rumors are now circulating that Kamandi will be making an appearance. Kamandi is a character that was created by the legendary Jack Kirby in the comic Kamandi: The Last Boy On Earth. In the finale of Legends it pays a similar
scenery like the dinosaurs, famous landmarks stuffed in Los Angeles and everything looks messed up. There are speculations that this is going to be one of the ways where DC would pay homage to the legendary comic book writer and artist. To add on this, Marc Guggenheim told Entertainment Weekly that they are considering adding Kamandi in the twist. Also, recently, CW released their synopsis for the next season which poses clues for our Legends on Season 3. Check it out below:
"After the defeat of Eobard Thawne and his equally nefarious Legion of Doom, the Legends face a new threat created by their actions at the end of last season. In revisiting a moment in time that they had already participated in, they have essentially fractured the timeline and created anachronisms – a scattering of people, animals, and objects all across time!
Our team must find a way to return all the anachronisms to their original timelines before the time stream falls apart. But before our Legends can jump back into action, Rip Hunter (Arthur Darvill) and his newly established Time Bureau call their methods into question. With the Time Bureau effectively the new sheriffs in town, the Legends disband – until Mick Rory (Dominic Purcell) discovers one of them in the middle of his well-deserved vacation in Aruba. Seeing this as an opportunity to continue their time traveling heroics, Sara (Caity Lotz) wastes no time in getting the Legends back together.
We reunite with billionaire inventor Ray Palmer (Brandon Routh), the unconventional historian-turned-superhero Nick Heywood (Nick Zano), and Professor Martin Stein (Victor Garber) and Jefferson "Jax" Jackson (Franz Drameh), who together form the meta-human Firestorm. Once reunited, the Legends will challenge the Time Bureau's authority over the timeline and insist that however messy their methods may be, some problems are beyond the Bureau's capabilities. Some problems can only be fixed by Legends."
So it seems that the Legends are back and are going to face the Time Bureau but the question is what are the things that will affect and who will be another character that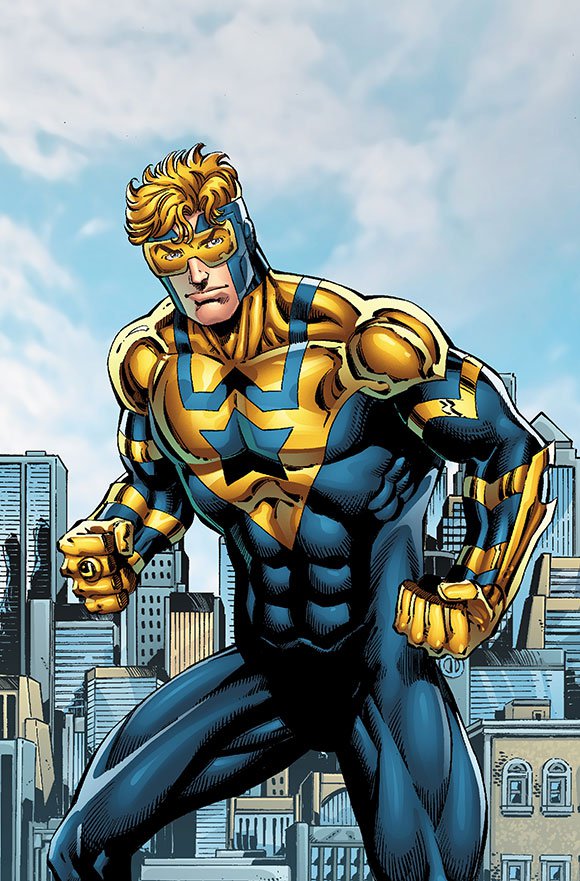 will be added in the roster as one of the Legends. Hopefully, in this season we get to see Booster Gold. Maybe not as one of the Legends but a fellow time traveler who wants to help the group of misfits. He will be a great addition for he will provide the Legends his knowledge in time travel and another good thing is the interaction of Booster Gold and Rip Hunter. For those of you who are not comic book fans, Booster Gold is the father of Rip Hunter so it is a good way to see a father and son interaction in the series.
Also, I'd like to see another team up of villains. Last season we saw Damien Dhark, Malcolm Merlyn, Leonard Snart, and Eobard Thawne as the Legion of Doom. Hopefully for the next chapter of the Legends we see another group of villains with a motive to conquer time and rule it. Still, we are way ahead to predict on the events for our favorite Legends. DC's Legends of Tomorrow will be released this year on early October.
Next in line we have Supergirl. For this season, we got to see Kara Zor-El fight alongside with Superman, Guardian and other heroes. In the finale, we see a final showdown between Supergirl and the Queen of Daxam, Rhea. The finale was action-packed, drama
filled and an epic cliffhanger. In the final battle, Supergirl battle it out against Queen Rhea while the Daxam soldiers go into a full rampage in National City. Thankfully, Superman, Martian Manhunter, Mon-El, and Miss Martian go and defend the city. In the end, the Daxamites were driven off the planet, Rhea was killed by changing the earth's atmosphere to lead and was forced to drive Mon-El off the planet to survive. It was an emotional moment for the both of them but it was decided so that Mon-El will be saved.
Also, in the finale, we get to see a flashback on the day when Kal-El and Kara Zor-El were blasted away from Krypton's impending destruction. On the other side of the planet, we also have a chance to see another survivor of the planet Krypton which is Reign another Kryptonian monster experiment gone wrong. Hoepfully, this villain for the next season will not be as cliche as the others have been.
In the next season, we will also see some changes in the relationship between Superman and Supergirl. In the finale, we saw the two battle it out and according to Tyler Hoechlin that this would have a great impact to Melissa Benoist's Supergirl in the future episodes of Supergirl. Hopefully, next season, we get to see great story, more conflict and the return of, fingers crossed, Mon-El back.
Third on the list, we have The Flash. This season on our favorite speedster, we see more downs on this season. There are a lot of dull moments this season but still we have great episodes. In this chapter in Barry Allen's life as a crime fighting meta human, the consequences of his actions has already caught up with him. After creating the alternative timeline Flashpoint, Barry created more threats against his city and one of them is the God of Motion, Savitar who turns to be Barry Allen from the future. They
certainly did a good job bringing their version of Flashpoint in the small screen but the show should have made it more complex and not compress the whole concept in one episode. They should have made it three to four episodes till they figured stuff up and solve to save the other timeline. In there we get to explore the ophthalmologist version of Caitlin Snow, the billionaire Cisco Ramon, Kid Flash and Iris West, and even get to see a version of Harrison Wells in Flashpoint.
This season, in the final scene of the series, Barry went with the Speed Force to be it's prisoner in order to save Central City and the world. In the next season, it seems that the show is taking a turn in one of the most iconic stories of The Flash and this is The Flash:
Rebirth. In the comics, The Flash comes back to life after a dying in Crisis of Infinite Earths. In here, we get to see Barry being conflicted in coming back to life where he thinks that time has already moved on and everyone around him no longer needs him as The Flash. If the writers are planning to make the next season based on this storyline, it may seem that Wally would take the boots of his mentor and take his place as the Scarlet Speedster of Central City. In my view, I am hoping that they will not make the same mistake they did in Flashpoint. Also, the writers already stated that for season 4 they are going to do away with the evil speedster as their main villain and said that it would be non meta. It is also circulating in the Internet that his next villain would be DeVoe or also known as The Thinker. I am also excited for next season to see Wally be Central City's new protector and to see, if possible, The Flash Museum. I mean, it is not possible to see it for this coming season. CW also released the synopsis of The Flash for Season 4 and it seems that Barry Allen is returning as the Scarlet Speedster. Here's the synopsis:
"Barry Allen (Grant Gustin) lived a normal life as a perpetually tardy C.S.I. in the Central City Police Department. Barry's life changed forever when the S.T.A.R. Labs Particle Accelerator exploded, creating a dark-matter lightning storm that struck Barry, bestowing him with super-speed and making him the fastest man alive — The Flash. But when Barry used his extraordinary abilities to travel back in time and save his mother's life, he inadvertently created an alternate timeline known as Flashpoint; a phenomenon that gave birth to the villainous speed god known as Savitar, and changed the lives of Caitlin Snow (Danielle Panabaker) and Wally West (Keiyan Lonsdale) forever. With the help of his adoptive father, Joe West (Jesse L. Martin), his lifelong best friend and love interest Iris West (Candice Patton), and his friends at S.T.A.R. Labs — Cisco Ramon (Carlos Valdes), C.S.I Julian Albert (Tom Felton), and an Earth-19 novelist named H.R. Wells (Tom Cavanagh) — Barry continues to protect the people of Central City from the meta-humans that threaten it."
For our final stop, we have Arrow. The season finale of Arrow is the finale we are all waiting for. It is literally explosive! In the finale we get to see Oliver close his book on the island and save his son, William. It is action-packed and thrilling at the same time. In here we see Oliver working with Slade, Nyssa, Malcolm, and Digger Harkness who
betrayed him. Also, for those who are fans of John Barrowman's Malcolm Merlyn, he officially said that Malcolm Merlyn is dead in the Arrowverse. Also, Prometheus will not be returning next season for he killed himself. The question that is being asked right now is that, who survived in the explosion in the island? In the finale, Oliver left the team in the island and chased Adrian in his boat in order for him to save his son.
Honestly, for this season of Arrow, it was dull and at the same time an interesting season for Oliver and the team. This season, Oliver finally confronts the consequences of his actions when it comes to killing his suspects. The issue was dealt in many ways and there is this one thing that everyone around him is telling Oliver and that is the past should not pull you back and define who you are. For several episodes in this season, Felicity, Diggle, and even Slade tells him that he should not beat himself so bad and that he should move on from it. And he did. But this may be the changes we would e seeing in Oliver that he will no longer be held captive in his past.
In the finale, this is where we get to see the conclusion of Oliver's flashbacks in Lian Yu. Although, I'm a little bit disappointed on the events that concluded his five year stay on
the island. I was hoping that Oliver would be left by the boat that Anatoly hired and was hoping that Oliver would wait for another few months till his rescue. And that would explain his beard and long hair. But no. The writers decided to make his hair just a wig to make the others think that he really stayed on the island for five years. Anyhow, the finale for the flashback was heart warming. We get to see Moira again being contacted by Oliver.
What I like about the finale is that it is just like the first finale that they had back in the first season. It was thrilling, heart-stopping, and with a pinch of heart felt drama. Meanwhile, CW just shared the synopsis for the sixth season of the series and it holds some clues on what Oliver Queen and Team Arrow are going to have on their next escapade. Check it out below:
"After a violent shipwreck, billionaire playboy Oliver Queen (Stephen Amell) was missing and presumed dead for five years before being discovered alive on a remote island in the North China Sea. He returned home to Star City, bent on righting the wrongs done by his family and fighting injustice. As the Green Arrow, he protects his city with the help of former soldier John Diggle (David Ramsey), computer-science expert Felicity Smoak (Emily Bett Rickards), his vigilante-trained sister Thea Queen (Willa Holland), Deputy Mayor Quentin Lance (Paul Blackthorne), brilliant inventor Curtis Holt (Echo Kellum), and his new recruits, street-savvy Rene Ramirez (Rick Gonzalez) and meta-human Dinah Drake (Juliana Harkavy).
Oliver has finally solidified and strengthened his crime-fighting team only to have it threatened when unexpected enemies from his past return to Star City, forcing Oliver to rethink his relationship with each member of his "family"."
So it seems that mostly everyone who was in the island will survive from the explosion in the island. To add things for next season, Marc Guggenheim said to Access Hollywood that in the premiere of season 6, there will be a flashback and it would take place in the island. On my perspective, this flashback will be on the day when the island exploded and we will see on who survived and how they escaped it.
Also, hopefully next season, we get to see some of Green Arrow's villains form the comics (I'm really anxious on seeing Onomatopoeia in live action). And I really am anxious on seeing the new threat they will be facing for the next season.
This coming October, CW/DC will be returning for another adventure, defending their city from impending threats and saving the world from global catastrophe. This season was great and I am hopeful that nest season will be better from the last.
That's all for now. Be sure to check my other post and for my upcoming review on Marvel's Agents of S.H.I.E.L.D. season 4 and what clues we will be clinging on for next years season 5. Also, stay tune for my review on Wonder Woman and a finale review for Lucifer and Gotham.